Bateaux Parisiens: Dinner Cruise with Optional Champagne Tickets
Highlights
Enjoy a magical 2.5 hour-long cruise on the Seine River.
Take in gorgeous views of Paris and its iconic landmarks as you dine on a magnificent 3-course meal.
With the option to select a window seat, snag the best spots on the boat.
Be entertained by the talented live musicians onboard.
Sip on a glass of wine, as you admire one of the most beautiful Parisian boulevards.
Summary
Your Experience
Aboard a beautiful glass canopy boat, embark on a once in a lifetime Parisian experience. This magical nighttime cruise offers stunning views of the city's best monuments, such as the Eiffel Tower, Les Invalides, The Parliament, Musée d'Orsay, Institut de France, Notre Dame Cathedral, Louvre, Grand Palais and more.
Dig into a scrumptious 3-course French meal prepared specially by the chef onboard using the best seasonal produce. Enjoy the sights and your meal as you glide through the City of Lights.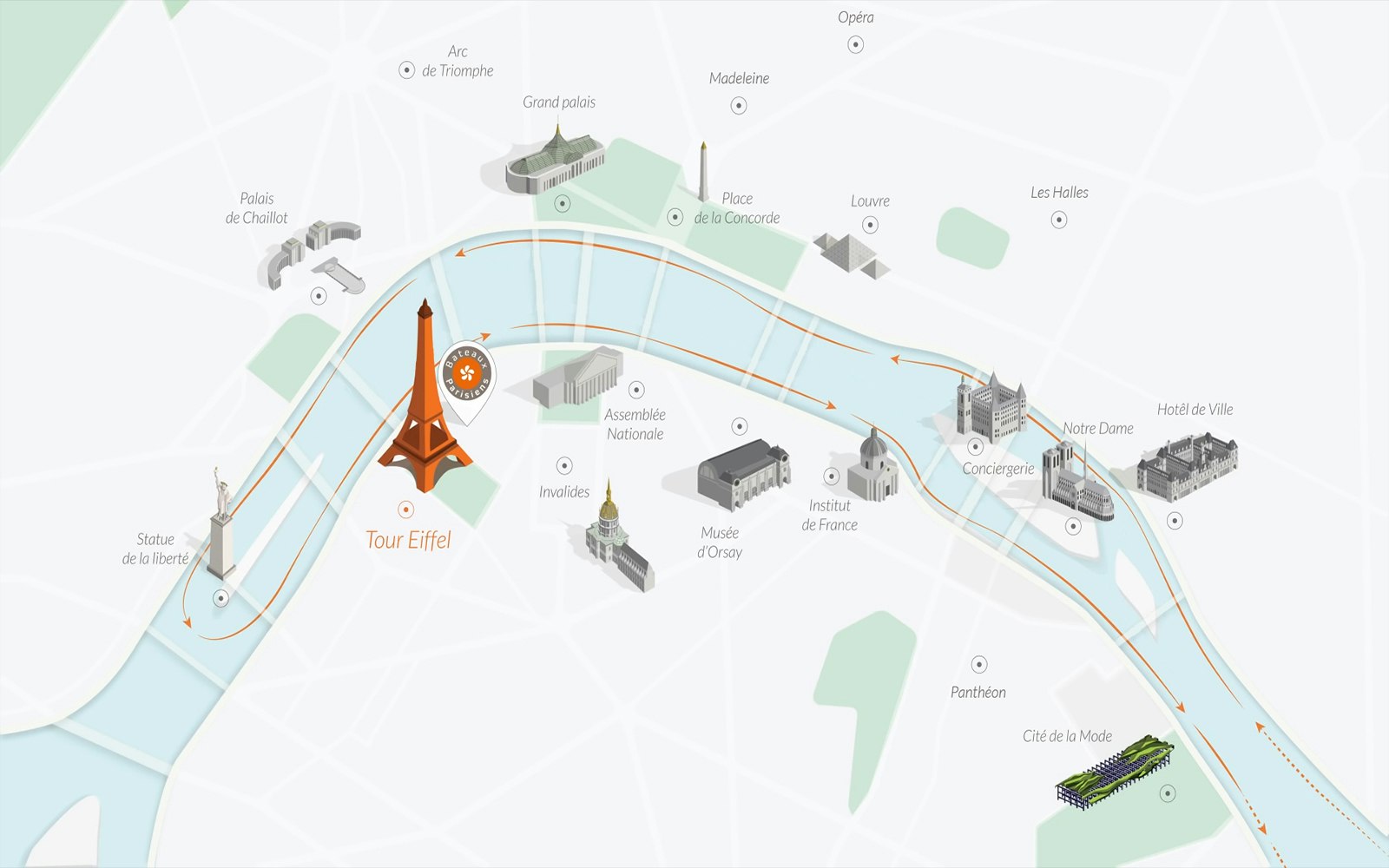 Upon checkout, upgrade your ticket to a window seat for a unparalleled views of the city. Tables in the middle section of the boat still offer a great experience; however, to fully enjoy the boat's beautiful glass canopy, snag a seat right next to the action!
Menu
Meat Options Starters
South West duck foie gras with sweet spices | Pear compote with star anise | Scallops gremolata, chestnut chips, fine cream of butternut
Marinated salmon with beetroot | Shortbread pie caponata confit winter | Escargots with bordelaise | Celery rave like a risotto and bresaola nuggets
Main Course
Beef Rossini, potato mousseline and truffle coulis | Bar rôti spelled of Haute Provence and Nantua sauce Filet de canette | Pear poached in wine, polenta rustiqua and juice with cranberries
Veal stew, gnocchi and stewed gaiters
Cheese
Cheeses ripened by our Cheese Master
Service Etoile: In lieu of dessert or extra (5 €).
Dessert
Prune marmalade, cheese cake emulsion, dried fruit tile | Vacherin coconut, winter fruit coulis
Exotic Baba Kouglof
Fluffy chocolate pear
Vegetarian Options
Velouté Parmentier and haddock, pepper whipped cream
Einkorn of Haute Provence, vegetable caponata, vinegar broth
Drinks and Wines
Service Étoile: Blanc de Blancs kir | Mineral water and coffee
Service Découverte: Blanc de Blancs kir | Mineral water and coffee
Service Privilège: Glass of Champagne | Mineral water, coffee and petits fours
Service Premier: Glass of Champagne rosé and appetizer | Glass of Champagne served with dessert | Dessert served with a herbal tea by Chic des Plantes! | Mineral water, coffee and petits fours
One bottle (75 cl) serves 4 people.
FAQs
Know Before You Go
Timings
Open from Mon to Sun
Departure at 8:30pm
Return at 11pm
Location
Bateaux Parisiens, Port de la Bourdonnais, 75007 Paris, France, Paris, 75007, France
Reviews
You May Also Like